The system of policies and legislation on environmental protection continues to have new developments that are more complete and synchronous with the socialist- oriented market economy regime that the Party and the Government are building. Professional organizations on environmental protection have been strengthened from central to local levels and in ministries and sectors; International cooperation on environmental protection has been continuously strengthened and expanded. Environmental quality in many localities has made positive changes. We have been initially successful in achieving the objective of basically controlling and reducing the level of pollution, resource depletion and biodiversity loss; Continue to improve the quality of the environment; A few negative impacts on the environment are initially prevented; Many environmental problems have been resolved in time.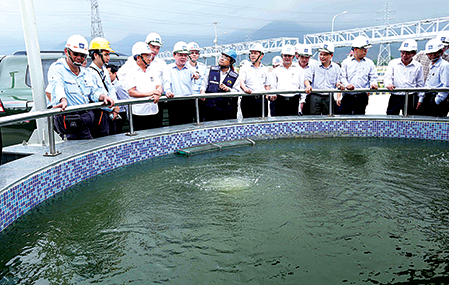 Ministry of Natural Resources and Environment has inspected the situation of overcoming environmental incidents at Formosa Hà Tĩnh Steel Corporation.
2018 is the transitional year in implementing the resolution of the 12th Party Congress, the socio-economic development plan 2016 - 2020, the Government's action program for the term of 2016 - 2021. The implementation of the tasks and plans of the environment sector is set in the context of the Government's determination, creating a clear change in the implementation of strategic breakthroughs with the motto of the Government "Discipline, integrity, action, creativity, and efficiency". Beside the achievements, the environmental sector is also facing difficulties and challenges such as: Some mechanisms and policies have not kept pace with reality; lack of effective management tools and measures; law enforcement capacity in some localities is limited; environmental pollution and degradation tend to increase; capacity, human resources, financial resources for environmental protection have not kept pace with the increasing number of management objects and arising environmental issues.
On the basis of positive changes in environmental protection in 2017, in order to strengthen environmental protection, tackle urgent environmental issues, prevent and reduce pollution, properly manage waste, improve environmental quality, it is necessary to focus on the priority tasks and basic countermeasures as follows:
First, focus on reviewing, amending and perfecting the system of policies and legislation on environmental protection
- Review, formulate the Scheme on amending and supplementing a number of articles of the Law on Environmental Protection and laws related to environmental protection; issue the Decree amending and supplementing some decrees, detailing the implementation of the Law on Environmental Protection.
- Review, adjust, or formulate new national standard regulations on the environment based on the experience of environmental management, legal system and environmental standards of developed countries in the world.
- Formulate and implement a special control scheme for projects and establishments which are likely to cause high environmental pollution. To set up a system of environmental criteria as a basis for selection and screening of production forms and production technologies in service of investment attraction, consideration and approval of investment projects.
- Develop a scheme on breakthroughs in mobilizing resources, attracting investment and socializing environmental protection, strictly following the following principles: "The beneficiaries of the environment are obliged to contribute financially to environmental protection; polluters and environmental degraders must compensate and pay for environmental treatment, rehabilitation and restoration expenses".
- Formulate a general scheme on enhancement of solid waste management capacity in urban and rural areas; scheme on environmental monitoring and warning in key economic zones, concentrated areas of many sources and environmentally sensitive areas in the period of 2018 - 2025, orientation 2030; scheme on enhancing biodiversity conservation capacity in protected areas and biodiversity corridors.
Second, continue to renovate the inspection, examination and supervision to promptly detect and strictly handle the violations
- Develop a plan for inspection in 2018 in the direction of renewal, reduction of the object of inspection, examination and renewal of the organization of inspection and examination teams. Completely resolve outstanding, complex, prolonged cases. In 2018, focus on inspecting and supervising big projects with potential risks of environmental incidents such as textile and dying, steel making, chemical production; facilities having waste water flow from 200 m3/day and night; outdated types of production and technologies, large sources of waste, discharge into environmentally sensitive areas such as coastal areas and river basins; strictly handle violations, especially acts of contaminating the environment.
- Continue to maintain the activities, promote the effectiveness of the hot line, receive and process information and feedback of organizations and individuals on environmental pollution in the central and local levels, detect and promptly handle incidents causing environmental pollution and prevent potential environmental incidents.
- Formulate and implement a comprehensive monitoring plan for potential establishments and projects that may cause high environmental pollution, including: Vĩnh Tân thermal power plant, VNT19 paper mill, Formosa Hà Tĩnh Steel Corporation; major projects (Central Highland bauxite, Thạch Khê - Hà Tĩnh iron, Đông Pao - Lai Châu and Nghi Sơn - Thanh Hóa rare earth).
Third, strengthen the coordination between ministries and sectors, the connection between central and local, dialogue between state management agencies and people on environment
- Focus on the coordination mechanism between the specialized agencies on environment protection at the central level, the ministries, sectors and localities, ensure the synchronized and effective coordination in the process of implementing the tasks of state management for environmental protection.
- Improve the quality and consistency in guiding and responding to problems and dealing with local requests and proposals in environmental protection.
- Study and formulate a mechanism for regular dialogue between environmental agencies at the central and local levels, people and enterprises in the field of environment, paying attention to the good settlement of environmental administrative procedures, timely acknowledge and resolve satisfactorily the difficulties, problems and suggestions of the localities and take measures to remove professional and financial issues in the state management on environmental protection.
Fourth, implement the monitoring program, formulate the database on environment
- Focus on implementing monitoring programs in key economic zones, areas concentrated with waste sources and environmentally sensitive areas through the development of the scheme on monitoring and warning on environment of key economic zones, areas concentrated with waste sources and environmentally sensitive areas for the period 2018 - 2025, orientation 2030.
- Integrate data from waste source observation with environmental quality monitoring to forecast evolutions, assess, identify causes and have appropriate and timely response measures.
- Coordinate with the People's Committees of Hà Tĩnh, Quảng Bình, Quảng Trị and Thừa Thiên Huế provinces to deploy the system of marine environment monitoring in 4 central provinces.
Fifth, strengthen organizational apparatus and reform administrative procedures
- Implement the project on strengthening the organizational apparatus and strengthening the capacity of environmental management staffs from the central to local levels in the period of 2017 - 2020 with a vision to 2030.
- Continue to improve the working manner, improve the effectiveness of administrative reform, especially for administrative procedures related to the people and enterprises; continue reviewing, removing unnecessary administrative procedures that cause difficulties for people and enterprises; complete procedures, simplify administrative procedures, reduce time needed to complete administrative procedures. Strengthen the application of information technology and computerization in the implementation of administrative procedures and licensing online. Deploying flexibly and efficiently online public services, and national one-stop customs mechanism.
The period of 2016 - 2020 is particularly important, deciding the completion of the goal of building a foundation to soon bring our country into a modern industrial country. The tasks of environmental protection set up in this period is abundant. It requires us in 2018 to continue to have effort, solidarity, determination and creativity in implementing tasks and solution to achieve the important goals set, so that the environment is really one of the 3 pillars of sustainable development.